The global second-hand market is growing at the fastest rate than ever. With the ever-rising craze for thrift shopping, the global used shoe market is witnessing massive growth. The second-hand market focuses on various product categories, from apparel to accessories and furniture; however, the demand for clothing and shoes is always at its peak.
Used shoe markets are profiting like never before; people are becoming crazy about used branded shoes, which they could not have afforded with the original price tag. This is the biggest quality of used markets; it helps people afford luxury products that they could not afford brand new.
The global used shoe market, the demand for used sports shoes is always high. From Nike to Adidas and Jordan, all these sports brands are praised for their top-notch sports shoes, but the price tag makes them out of budget for most of the population. Luckily, with the help of used markets that sell second-hand branded shoes wholesale, everyone can afford them.
What Are The Types Of Used Sports Shoes Available?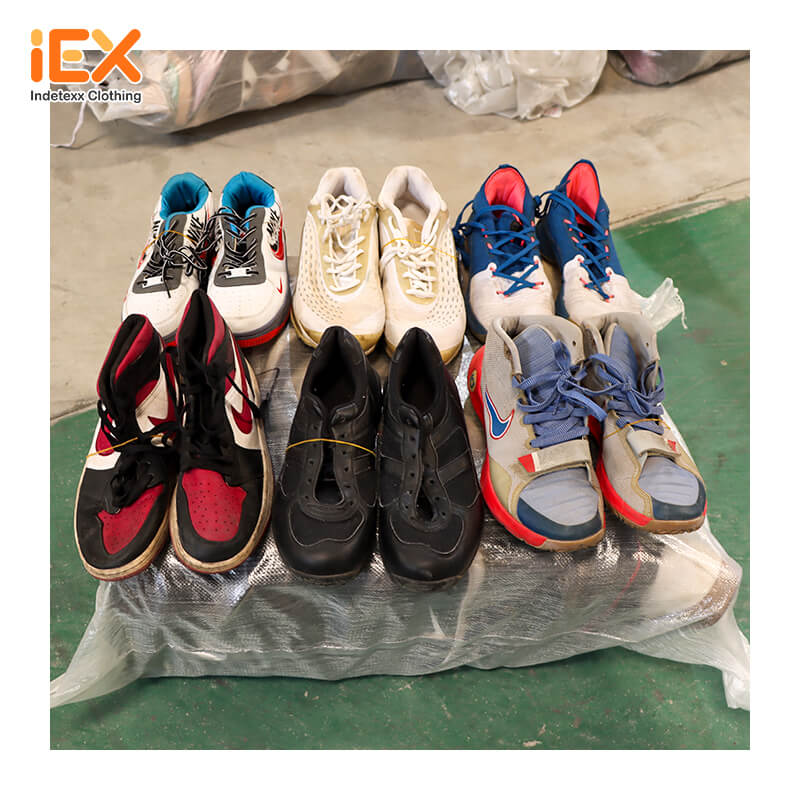 There are many categories for sports shoes; some are designed for running while others are ideally designed for the football field or basketball court. Some are durable for hiking, while others are for special activities like dance and Zumba. Each sports shoe serves a different purpose, so it is crucial to sort out the purpose before purchasing used sports shoes. When you visit a used sports shoe market or search for second-hand shoe bales, you can expect these types:
Used Running Shoes
Before you buy used running shoes in bulk from a supplier, you must pay particular importance to their quality. Running shoes are designed for jogging, running, and heavy workout sessions. These shoes have hard rubber soles that are ideal for running or working out on hard surfaces. Overall, running shoes are lightweight, tough, durable, and provide protection from injuries. While buying used running shoes in bulk, the soles must be given particular importance.
Used Bowling Shoes
Bowling shoes are designed differently; their special sole gives a better grip on the smooth surfaces of bowling alleys. There is a high demand for used bowling shoes, especially in countries where bowling is popular. The specialty of bowling shoes is their tough body and the use of high-quality material such as leather and rubber, which is why they are so durable, even second-hand ones.
Used Football Shoes
Football shoes, better known as soccer shoes in America, are designed uniquely. These shoes have spikes attached to their outer sole, which help players run efficiently on the field, even if wet. People worldwide have a craze for used football shoes, which is why the second-hand football shoes market is huge. From shoes worn by legends to local players, there is always a high demand for second-hand football boots that have been used on the field. Sometimes, you may also come across some scenarios where a football boot worn by a legendary player got auctioned for thousands of dollars.
Used Tennis Shoes
Used markets are witnessing a growing demand for used tennis shoes with days. The main reason behind this rise in demand is that for a tennis player, wearing comfortable shoes is a must during the game, and it is impossible to find that comfort in new ones. This is why the players always choose used ones that ensure comfort and can be worn all day long.
Used Hiking Boots
Hiking is a hobby of many, and a lot of factors depend on the shoes you are wearing. Companies design numerous hiking boots every year to protect the ankles and feet. Hiking trails can be easy or difficult, but one thing should remain constant: the comfort of your shoes that will provide support and protection.
It is next to impossible to hike comfortably with a brand-new hiking boot; hence, there is a huge demand for used hiking boots that promise a good fit and comfort. While purchasing second-hand hiking boots, particular importance must always be given to the quality of leather and rubber used, the cushioning of soles and the overall functionality.
Used Golf Shoes
Compared to other sports, golf may not be a physically straining game, but the shoes play a vital role in walking on the field. Golf shoes have to go through less wear and tear; they are specially designed to gain alignment with the swing and grip. Since golf is one of the most leisurely sports, used golf shoes are always in good condition.
Used Dance Shoes
Other than workouts, there is a massive requirement for good-quality shoes for those who dance or do Zumba and aerobatics. Different types of shoes are required for different dance forms, such as for shuffling, and freestyle dancers require sneakers; for ballet, the requirement is a special ballet shoe; for salsa, it can be heels or flats; and for tap dance, the shoe must have a stiff sole to create that loud tapping sound. Used dance shoes are available in abundance; they offer more comfort to dancers and help them worry less about their feet hurting for a tight fit. Buying second-hand dance shoes can be profitable for dancers who must rehearse and perform regularly.
Used Basketball Shoes
Basketball courts are known to be slippery and smooth, so basketball shoes are designed to offer grip and ankle stability. Used shoe markets sell a wide variety of used basketball shoes that look just as new and offer great comfort. People buy used basketball shoes for their flexibility, affordable price tags on brands, and ankle stability.
Where To Get Used Sports Shoes At Wholesale?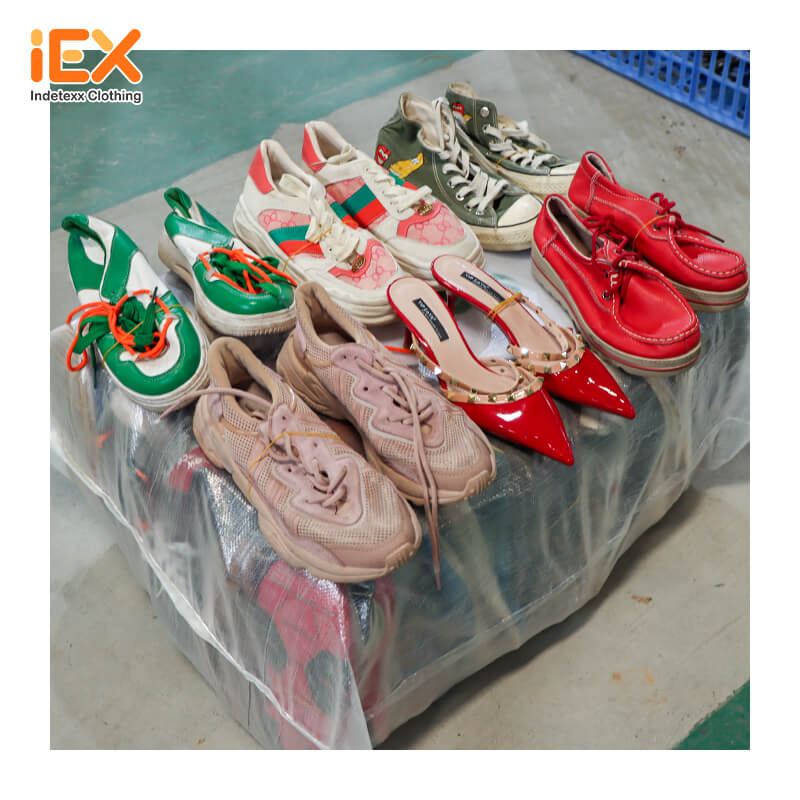 Buying 2nd hand-branded shoes or used sports shoes is pretty easy. You can either look out for international distributors that offer used shoes in bulk or find a trusted supplier that takes great care in quality control, packaging, and delivery.
You can also contact used shoe manufacturers and wholesalers if your requirement is in bulk. When you buy used designer shoes or sports shoes in bulk, you can get them at wholesale rates while, at the same time, you get the manufacturer's guarantee on quality.
Contact Indetexx For Used Athletic Shoes Wholesale
One of the best ways of letting go of quality-related worries is reaching out to Indetexx, a leader in second-hand supply. From second-hand clothes wholesale to branded used sports shoes, you can expect a huge variety of products in their best condition when partnering with Indetexx.
Although Indetexx takes pride in their uncompromising quality maintained in bale clothing, they are also praised for their wide variety of second-hand sports shoes, including second-hand basketball shoes, soccer boots, sneakers, and much more.
Final Thoughts
For running a second-hand business, paying importance to the quality of products is essential. While purchasing used sports shoes in bulk from local markets, there is a high risk of getting damaged products, but if you rely on trusted suppliers, these quality-relating worries can be eliminated. If you wish to know more about how you can purchase second-hand sports shoes in bulk, contact us here.